Welcome
to the working group Young Food Chemists (AG JLC)
We are a working group of the Food Chemical Society (LChG), a division of the German Chemical Society (GDCh). We represent food chemistry students and doctoral candidates at German universities, food chemists in their practical year as well as those starting their careers.
We aim to support the interests of young researchers, to encourage communication between universities and to make the profession of food chemists better known. Many companies are looking for employees who have precisely the skills of a food chemist, but are not aware that the degree program exists or do not know it well enough - we want to change that!
In order to achieve our goals, we are constantly expanding our established information network and try to encourage as many students as possible to actively participate in the AG JLC/LChG/GDCh. The regional groups meet once a month, while national meetings take place twice a year.
ABOUT US
THE LARGEST AND YOUNGEST WORKING GROUP OF LCHG
AG JLC is a voluntary working group which represents young food chemists and their interests in all educational and professional aspects and which offers them a possibility to network outside of their university.
Our organisation has been growing steadily since 1996 and has now around 250 members at 15 locations. No matter if you are studying, doing your PJ or your doctoral studies – anyone can join the Young Food Chemists. Even after starting your career, you can still stay a member for up to three years. You will get to know lots of new people outside your university and also gain access to our established information network.
To mark our 20th anniversary, we have published a chronic. Have a look!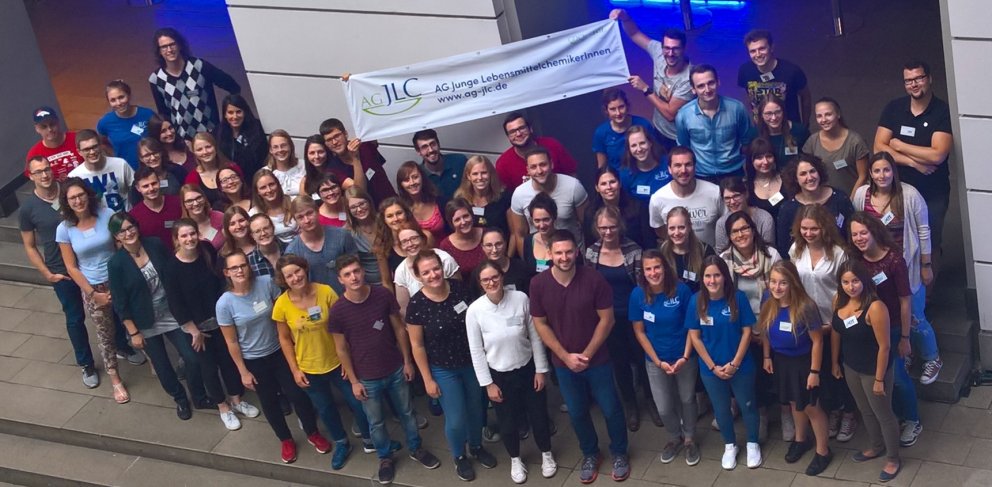 Recent events
Past events, have a look!
AG JLC offers many interesting events, whether regionally or nationally. Excursions to local companies to give you an insight into the industry beyond your studies, information evenings on all stages of the training as well as on starting a career, but also meetings with working groups from other universities for networking and exchange.
Don't hesitate to write to us
Contact form